Success Story by Embee Middle East a Noventiq Company
Despite having a mature, leading ERP solution, the client was facing the challenge of generating financial performance reports for its management and board members. Fixing this issue was no small feat – the ERP generated multiple reports, and the customer's finance team had to run the reports, compile the results, and then carry out a lot of tiresome manual processes in order to produce the final reports. The process was cumbersome and tedious in the extreme, taking weeks and wasting the time of numerous team members from finance and IT.
So, the customer was looking to automate the entire process of financial reports and dashboards generation with a BI solution that could take data from Oracle ERP, process it, and then generate the reports/dashboards.
Embee proposed Azure Synapse as the best solution for achieving this outcome independently and with as much automation as possible.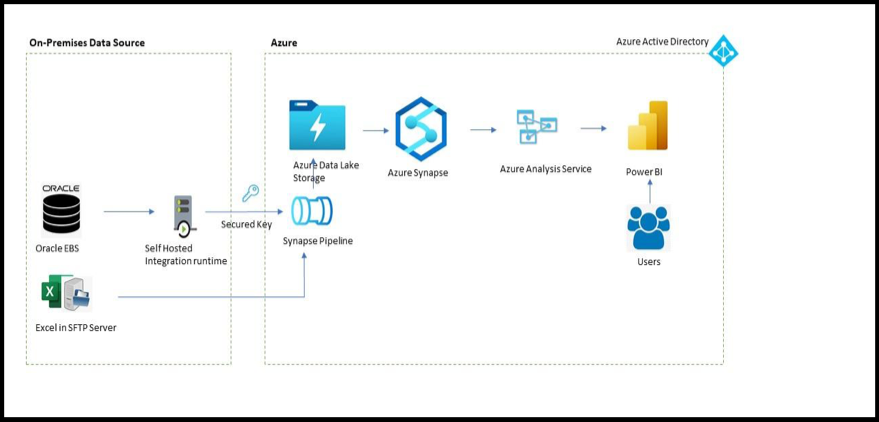 The data from Oracle ERP is transferred to Azure Synapse using Synapse Pipeline. The data is loaded to Azure Data Lake Storage for intermediate processing. Azure Synapse Analytics is then used to create views as per business logic, and serves as a data warehouse. Azure Analysis Service is used for creating data models. Reports are published using Power BI Service, and security is managed by integrating with Azure AD, which ensures that only authenticated users can gain access to reports.
With this solution in place, the client has reduced the effort for preparing financial reports from a matter of weeks to just a few hours. They are also able to generate key financial reports with a self-service approach. Having realized the benefits of this solution, the client is looking to automate their reporting process for other business functions such as supply chain and operations.