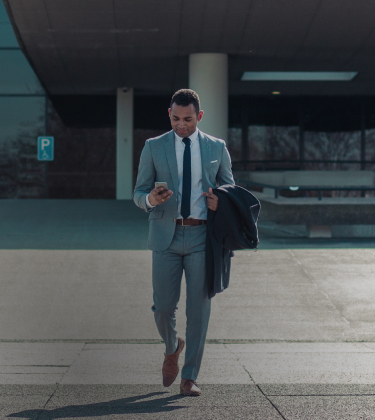 Investor Relations
Corporate Overview
Headquartered in London, Softline Holding plc (now trading under the brandname Noventiq) is a fast-growing technology company focused on emerging markets. Noventiq ensures that organizations succeed with digital transformation and remain protected in the cyber world so that they improve efficiency, create more value for customers and employees, and accelerate innovation. Noventiq helps organizations to define and build the best solutions whether in cloud or on-premises, delivered as a managed service or as a finite project.
Noventiq is unique in its combination of geographic footprint, cost effective and efficient access to talent; its portfolio breadth, covering the entirety of enterprise IT needs today and tomorrow; and its platform innovation, which caters for new ways of acquiring technology outcomes.
As every organization in the world is going through or embarking on digital transformation, they need modern IT solution providers like Noventiq.
LSE:SFTL
Softline Holding PLC (Noventiq)
We are a global scalable leader
>25

Years in the IT market
Why invest?
At the heart of the digital transformation

01

Resilient business model and scalable operating model

02

Addressing the entirety of IT needs

03

Proven growth strategy

04

A great team with sales & services in their DNA

05
At the heart of the digital transformation
Noventiq operates in a vast, fast-growing market that is responding to the overarching shift towards digital transformation. Operating in almost 60 markets, the Company enables and accelerates digital transformation for its customers, serving over 75,000 organisations in almost every industry. Combining relationships with hundreds of best-in-class IT vendors alongside its own extensive portfolio of services and proprietary solutions, Noventiq is well placed to lead this transformation. The focus on emerging markets provides significant growth potential as well as unrivalled access to efficient and talented IT professionals, which is generally harder to acquire in developed markets.
Resilient business model and scalable operating model
With strong recurring turnover, a diversified profile and global delivery model, Noventiq's business is highly resilient and efficient. Recurring turnover makes up more than 70% of Noventiq's total turnover, and continues to grow, further improving business stability and predictability. Noventiq is not dependent on any specific customer segment or solution category, which enhances the company's growth prospects and minimises risk.
Noventiq's delivery model is based on a network of delivery centres operating at local, regional, and global level. For example, with a Global Delivery Centre and Security Operations Centre in India, combined with a local presence around the world, Noventiq remains close to its customers while continuously working to improve its efficiency.
Addressing the entirety of IT needs
With a broad portfolio of vendor offerings, wide range of services and proprietary Digital Platform, the Company addresses the entirety of IT needs for the modern enterprise. Noventiq has advanced certifications with the world's leading technology providers, such as Microsoft, Adobe, AWS, Apple, Cisco, Dell, Google, HPE, IBM, Oracle, and VMware, amongst many others. The Company has been partnered with Microsoft for more than 25 years and is one of only 10 globally managed partners. This, together with Noventiq's services portfolio including cloud, modern workplace, hybrid infrastructure, cyber security, IT consulting and next generation technology services, ensure Noventiq is a trusted advisor and partner for its customers.
Throughout its 30-year history, Softline Holding plc has demonstrated outstanding growth. For example, its financial CAGR averaged 25% between 2006-2020. It has achieved this growth by focusing on 3 key strategic areas:
Geographic expansion: Continuously looking for opportunities to enter new markets where it can find disproportionate growth.
Portfolio expansion: Actively evolving its services, solutions, and platforms to emerging technology trends. Additionally, it invests in its Digital lab to support purposeful co-innovation with its customers and partners.
Sales Channel expansion: Relentlessly focused on effectiveness of its sales force, whilst pivoting Digital Platform and automation to address fast-evolving nature of technology consumption.
Furthermore, the Group pursues M&A opportunities to augment organic growth. It is acting as a natural consolidator in the industry with an extensive M&A track record of 20 transactions closed since 2016. Since October 2022, Softline Holding plc hqas divested itself and is operating under the trademark Noventiq.

A great team with sales & services in their DNA
Noventiq is a 8200-strong, people-first and customer-centric organisation with sales and services in its DNA. Noventiq successfully promotes entrepreneurialism and continuous development of its talent. Noventiq is a multiple Great Place to Work winner. Its relationship with employees is based on long-term partnership where the company and the team members share the success thanks to advanced motivation program. The Company is committed to diversity and inclusion and is resolute in its commitment to ethical and compliant business – a must-have for any technology ecosystem. Noventiq's management team is very diverse in terms of professional and cultural backgrounds, and this diversity echoes in day-to-day operations across Noventiq's international footprint.
Contact information
for investors
Graph Notes
Source: Company Data